The Science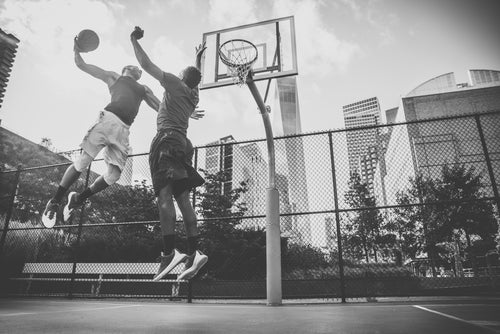 DUNKING REQUIRES MORE THAN JUST A PAIR OF SHOES AND A GO-GETTER ATTITUDE.
There are foundational scientific concepts that underpin our athletic movements. By understanding and applying these concepts, we create scientifically sound programs that maximize results. For each workout, we consider important variables—appropriate exercises, weights, volumes, and frequencies—to build athleticism and minimize the risk of injury.
Using Science to Customize Your Workouts
"Flight Lab Hoops consists of programs that are evidence-based, using the methods and conclusions of recent research on strength and vertical training, including our approach to utilize the optimal Force-Velocity profile.

To my knowledge, it will be the first program designed according to this innovative and increasingly popular approach, that basically sets the training program (loads, progression, exercises) according to the individual characteristics of each single athlete."

— Dr. JB Morin
Follow Dr. JB Morin on Twitter
ALL OF FLIGHT LAB HOOP'S WORKOUT PROGRAMS ARE BACKED BOTH BY SCIENCE AND THE RESULTS OF FLIGHT LAB HOOP ATHLETES.