Intro
$25 /mo
The intro plan offers 3 training programs: two beginner programs and a body weight program. This is the best plan for the vast majority of athletes!
The beginner programs introduce the techniques and exercises that create the crucial foundation for maximizing your vertical jump. Each program is 12 weeks, 3 workouts/week, 40-60 min/workout. You can chose a program that optimizes the one foot or two foot approach jump. Oh, and don't let the name "beginner" fool you. These will get you bouncey!

The other program available in this plan is the 4 Week Body Weight Workout Challenge. This is the perfect program for those with no access to equipment. In my case study, I actually had every single client improve (14/14!). One person gained over 5" on their vert! So if you don't have access to gym equipment, don't fret! This program will get you results!
All-Access
$50 /mo
The All-Access program is for athletes who aim to become elite in both jump and resistance training. All-Access provides unlimited use of all six comprehensive 12 week jump programs as well as a 4 week body weight workout challenge. This plan provides the workouts you need to go from novice to elite! As you progress through the programs, they become more intense and intricate. The final advanced programs require force-velocity testing to fully customize your workouts. This method targets your specific deficits so you can truly maximize your vertical jump!
1 on 1
$200 /mo
The custom program is tailored specifically for each athlete by Brian himself based on the volume, intensity, and customized exercises that help to meet YOUR goals. Programs consist of full body workouts to boost your vertical, increase your strength, or improve your overall fitness to take you to the next level!
DUNKING IS A SCIENCE
Flight Lab Hoops analyzes the form of some of the best basketball players in the world, learns their technique, and creates tutorials and training programs to show YOU how to dunk.
Hear What the Pros Say
"Brian has a great approach to training. He sets goals for your particular physical needs. We work constantly on strength and power in my lower body and pair it with agility and plyometrics, which all help with my explosiveness and power in jumping. I've made improvements each year!"

- Mike Conley Jr., guard, Utah Jazz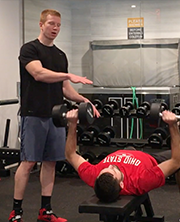 Meet Your Trainer
Brian Unverferth began his career as an assistant strength coach at The Ohio State University, helping to train basketball and hockey athletes. Over the past nine years, Brian has worked as a collegiate strength and conditioning coach and been a personal trainer for NBA athletes since 2015. He customizes workouts to maximize results and help his clients compete at the highest level.

Video Demonstrations
For all exercises, Brian provides a video demonstration and breakdown of correct form to achieve maximum results

Personal Progress Tracker
Log your workouts and complete the skill testing the pros use to track your progress and ensure you're following the best prescribed workout.

Workouts that go with you
Log-in to access your workouts from anywhere. With our mobile-friendly online training, you can use your workouts at any time and from any device.